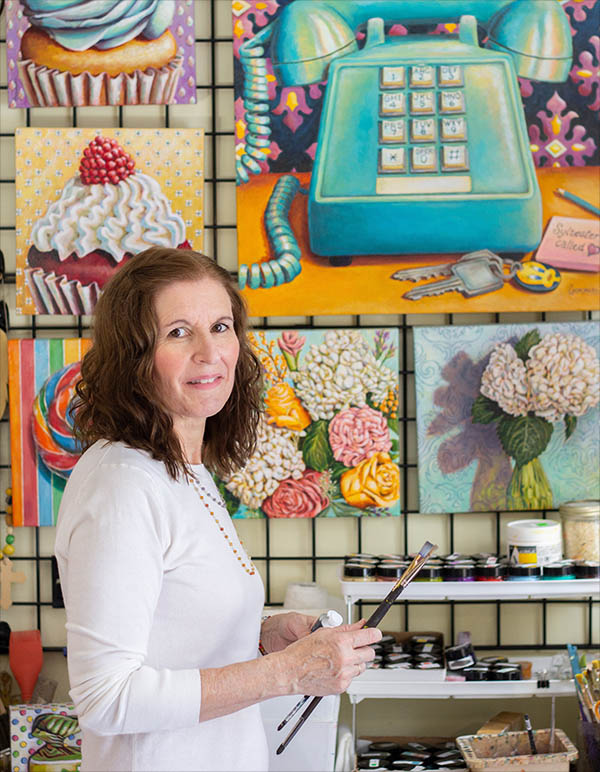 Carmen (Bourassa) Gonzalez was born and raised in Edmonton, Alberta, Canada by her French Canadian parents. Today, she still resides in Edmonton. She has three grown children with her Chilean born husband. She works full time as a fine artist and is active in Edmonton's artist community.
Carmen grew up watching her artist mother paint and draw. In her teenage years, she became very passionate about art and spent most of her spare time drawing. However, after completing high school, she took a different path away from art as an administrative assistant then as a process & electrical draftsperson. However, in 1998, life changed when Carmen was in a car accident. After struggling with her injuries for 8 years, she entered into an intense five week long rehabilitation program in 2006. During the rehab program, Carmen needed to set a long term goal which was posted on a wall for all to see. Her goal was to pursue her dream of becoming a full time artist. Her rehab experience was life changing as she accomplished things she never thought she could. Once she returned home from the rehab program, she immediately began taking art classes.
Her art career began with taking watercolour classes for two years while being a full time mother. Then she began exhibiting and selling her work. In 2009, she enrolled in the Visual Fine Arts program at the Faculty of Extension, University of Alberta and graduated in April 2013. During her studies, she discovered her fun contemporary pop/realism style. Her compositions are happy, playful, and nostalgic with the use of colour and patterns. Her subject matter often triggers our inner child, memories of the good old times, or floral tranquility.
ARTIST STATEMENT
"I love creating fun and uplifting paintings. I am especially inspired to paint nostalgic objects due to their history and how they trigger sentimental memories. I intentionally create patterned backgrounds to add zest to my still life objects. The combination of the two gives each painting more personality and ambience. My dyslexic brain is continuously communicating to me in shapes and colours. Ultimately, patterns have become my language. So, I feel very passionate about including my patterned backgrounds and feel that each painting would be incomplete without them. As well, I enjoy creating bold paintings this helps to stimulate your senses like taste, smell, or touch at the same time evoke those strong fond memories. My paintings are a visual feast – my viewer's can "taste with their eyes"."
MEMBERSHIPS
Federation of Canadian Artists (FCA)– Active Level member ( Sept. 2019 to current)
FCA Edmonton Chapter – Affiliate member (April 2020 to current), Executive Board -Treasurer (April 2020 to May 2022)
Night of the Artists (NOA) – member (2013 to current) nightofartist.com
Mondial Art Academia (MAA) – member (2016 to 2020) mondialartacademia.com
Society of Western Canadian Artists (SWCA) – member (2009 to 2019), achieved Signature Level, and Chair for Standards Committee (2013 to 2015) www.swcartist.ca
EDUCATION
Sept 2009 to April 2013 – Visual Fine Arts, University of Alberta, Faculty of Extension
Sept 1993 to April 1996 – Engineer Design and Drafting Program, Northern Alberta Institute of Technology (NAIT)
EXHIBITS/SHOWS
Mar 2022 – In-Bloom Square Foot Show featuring Debbie Miller, on-line group show
Mar 2021 – Chapter Spring Show, on-line group show, Federation of Canadian Artists – Edmonton Chapter, juried show by FCA head office
Nov 2020 – "Square Foot", gallery group show, Paula White Diamond Gallery, Waterloo, ON
Oct 2020 – "Big Ideas", gallery group show, Paula White Diamond Gallery, Waterloo, ON
Sept 2020 – "Julia Veenstra Square Foot show", on-line group show
Nov 2020 – Chapter Inaugural Fall Show, on-line group show, Federation of Canadian Artists – Edmonton Chapter, juried show by FCA Head office
April 2020 – "Social Distancing", international group show, Federation of Canadian Artists Vancouver, juried show by FCA head office Vancouver
Sept 2019 – "Julia Veenstra Square Foot show", gallery group show, Hamilton, ON
Sept 2019 to Aug 2021 "Lure" – TREX Program (traveling exhibition to all over Alberta) a program coordinated by the Art Gallery of Alberta (AFA) and government sponsored by the Alberta Foundation for the Arts (AFA).
Dec 2018 – "Julia Veenstra Square Foot show", gallery group show, Hamilton, ON
Dec 2017 to Jan 2018 – Highlevel Diner, Solo Show in diner
June 2016 – Scotia Place Gallery, juried group exhibit for SWCA members
Oct 2014 – Tasting with Your Eyes – Daffodil Gallery, Solo Exhibition
Jun 2014 – Colourful Candy Memories – Garden Cafe Gallery, Misericordia Hospital
Nov 2013 – Curiosity Show, VASA Gallery, SWCA exhibition
Nov 2013 – Mixed Media, CAVA, group exhibition
April 2013 – Lure of Colourful Candy, Graduate Solo Exhibition, UofA Extension Gallery
April 2011 – Femmes en Or, CAVA, group exhibition
Sept 2010 – Fourteen, Scotia Place Gallery, juried group exhibit for SWCA members
Mar 2010 – Celebration of Colours, CAVA, group exhibit
Dec 2009 – Miniatures, CAVA, group exhibition
Oct 2009 – Two Doze, Scotia Place Gallery, juried group exhibit for SWCA members
Mar 2009 – Variety of Life, CAVA, group exhibition
Dec 2008 – Miniatures, Centre d'arts visuels de l'Alberta (CAVA), group exhibit
PUBLICATIONS
The World of Interiors – "Artistic Impressions", Conte Nast, London, England – Oct 2019, Nov 2019, and Dec 2019 Issues
House & Garden – "Art Edit", Conte Nast, London, England – Sept 2019, Oct 2019, and Nov 2019 Issues
NOA Magazine, St. Albert, Alberta, Canada, Yearly magazine, issues 2013 to 2020
EVENTS & FESTIVALS
Mar 2022 – Night of Artists Art Festival (NOA), St. Albert
Nov 2021 – VICA Show, Sherwood Park
Sept 2021 – Strathearn ArtWalk, Edmonton
June & July 2021 – Whyte Ave ArtWalk, Edmonton
July 2019 – Whyte Ave ArtWalk, Edmonton
Mar 2019 – Night of Artists Art Festival (NOA), St. Albert
Sept 2018 – Strathearn ArtWalk, Edmonton
July 2018 – KDays, The Village, Edmonton
July 2018 – Whyte Ave ArtWalk, Edmonton
Mar 2018 – Night of Artists Art Festival (NOA), St. Albert
Sept 2017 – Strathearn ArtWalk, Edmonton
July 2017 – Whyte Ave ArtWalk, Edmonton
June 2017 – The Works Art & Design Festival, Edmonton
Mar 2017 – Night of Artists Art Festival (NOA), St. Albert
Dec 2016 – Pop-Up heART Market, 124 Street, Edmonton
Sept 2016 – Strathearn ArtWalk, Edmonton
Sept 2016 – Riverbend "Art in the Park", Edmonton
July 2016 – Whyte Ave ArtWalk, Edmonton
Mar 2016 – Night of Artists Art Festival (NOA), St. Albert
Sept 2015 – Griesbach Art in the Park, Edmonton
Sept 2015 – Riverbend "Art in the Park", Edmonton
July 2015 – Taste of Edmonton
July 2015 – Whyte Ave ArtWalk, Edmonton
Mar 2015 – Night of Artists Art Festival (NOA), St. Albert
Nov 2014 – NOA Christmas Art Show/Sale, Edmonton
Nov 2014 – Make It: Handmade Revolution Art/Craft Fair, St. Albert
Sept 2014 – Riverbend "Art in the Park", Edmonton
Sept 2014 – Annual Kaleido Family Festival, Edmonton
July 2014 – Whyte Ave ArtWalk, Edmonton
May 2014 – Butterdome Spring Craft Show, Edmonton
May 2014 – EEK Pop Cuture Festival, St. Albert
Mar 2014 – Night of Artists Art Festival (NOA), St. Albert
Nov 2013 – Make It: Handmade Revolution Art/Craft Fair, St. Albert
Sept 2013 – Annual Kaleido Family Festival, Edmonton
July 2013 – Taste of Edmonton, Edmonton
July 2013 – Whyte Ave ArtWalk, Edmonton
Nov 2012 – Make It: Handmade Revolution Art/Craft Fair, St. Albert
Oct 2012 – Urban Mommy Expo, Craft Fair, Edmonton
Sept 2012 – Annual Kaleido Family Festival, Edmonton
July 2012 – Whyte Ave ArtWalk, Edmonton